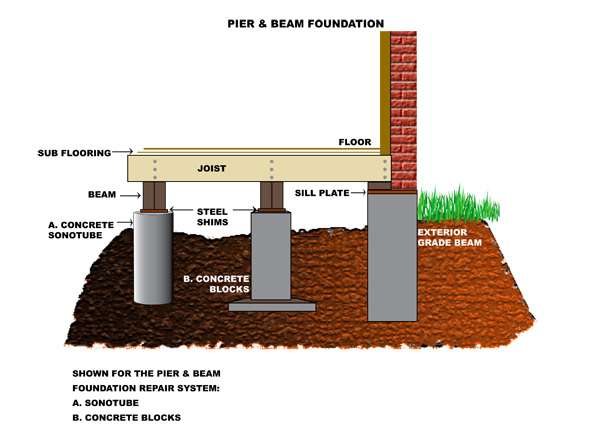 Common Problems with PIER AND BEAM FOUNDATIONS and how we fix them.
Leveling and Repairing a Pier and Beam Foundation
The floor joists are brought up to the desired level with hydraulic jacks and then are supported with chemically and pressure treated, cedar wood beams for long-lasting strength and structural support. After the beams are placed in position, new concrete footings are poured and when they dry the new press piers are placed on the footings and then metal shims are inserted between the new beams and the new press piers to lock-in the adjusted height.
Rotted Floor Joists
Floor joists become compromised and begin to rot due to many factors. Causes can be termites, standing water or just high humidity and moisture levels. Age can also play a factor. Joists are necessary for a sturdy, level foundation and any repair cannot be done without replacing damaged joists.
A damaged floor joist can cause large dips, bowed and bouncy floors and much more. Joists should always be replaced by a professional carpenter or foundation expert when repairing a pier and beam foundation.
FOUNDATION REPAIR EXPERTS | DFW Foundation Repair Team
Established in 1996, DFW Foundation Repair is where North Texas residents and business owners receive honest and reliable solutions for their Pier and Beam problems, big or small. DFW Foundation Repair is a locally owned and operated construction firm that specializes in Pier and Beam Residential and Commercial foundation repairs. DFW Foundation Repair has proudly served thousands of Texas homeowners since 1996.
You Might Ask Why?
There is nothing more important to DFW Foundation Repair than repairing your home's foundation problems correctly and ensuring the highest quality while doing so. It is your home and it is crucial to select the right foundation repair company to make sure your home is leveled and repaired correctly.
Our tried and true repair techniques have been proven to be the most reliable, cost saving, and ultimately the most cost-effective in the industry.
With over 20 years of experience in all kinds of foundation repair including pier and beam around the Dallas-Fort Worth area, DFW Foundation Repair has the knowledge, experience, and resources to repair your home's Pier and Beam foundation challenges.
We strive to provide the best price without sacrificing quality!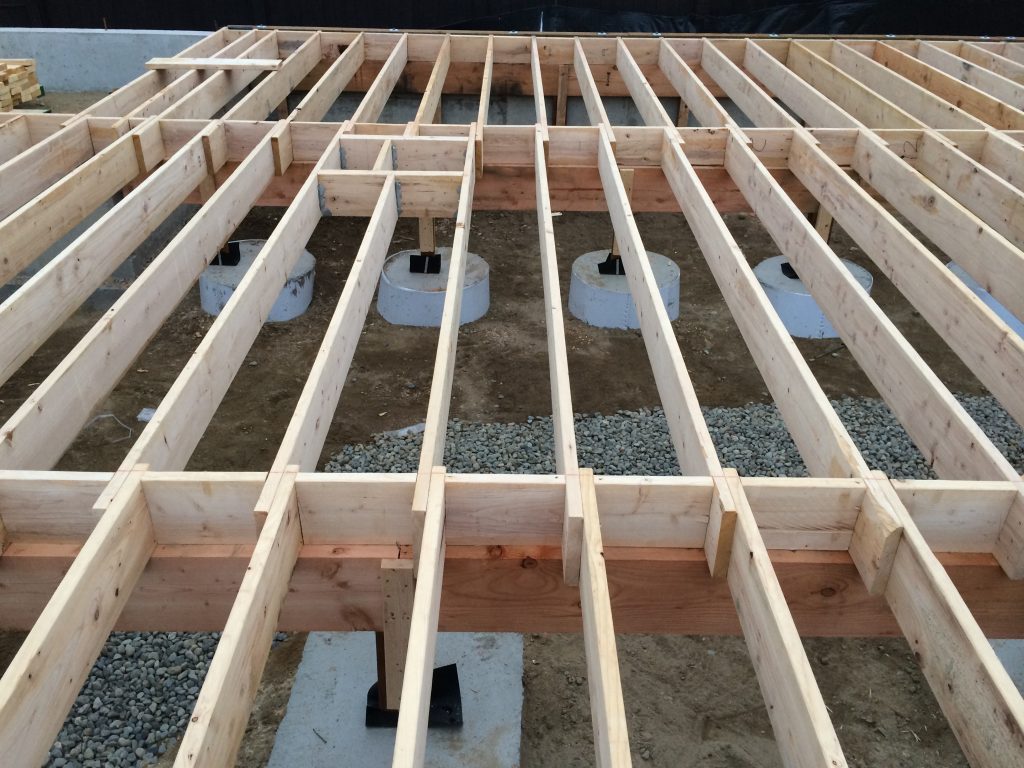 We offer:
More than 20 years of experience

Free Initial Diagnosis and Consultation

On-Site Supervision

Discounts are Available for Teachers, Law Enforcement, Firefighters, Nurses, Military, and Senior Citizens

Lifetime Transferable Warranty

Service in Dallas, Fort Worth, and surrounding areas
Our proven high standards and the business philosophy we employ sets OUR company apart from our competitors. The DFW Foundation Repair team members are experienced with all forms of Foundation Repair including Pier and Beam Solutions and are experts who take pride in the quality of service they provide.
Estimates only take half an hour! Contact Us Today to set up an appointment.
We always provide a written estimate on the spot when any repairs are required. It's important to find out early if the signs of soil settlement are normal or if it is a sign of a more serious issue. We price our pier and beam solutions competitively and we work hard to ensure that our customers receive superior foundation repair at a price you can afford and at a time that is convenient for you always with friendly, customer service.
DFW Foundation Repair has been repairing Pier and Beam structural problems for many years. We understand the causes of failure can be due to soil deterioration, lack of foundation support, unnoticed water damage, and other types of damage. It can also relate to poor construction, bad building materials, and just bad craftsmanship.
These problems over time can be accelerated due to the hydration and soil conditions under your home. Undersized support of your home or office structure can also cause Pier and Beam foundation failure. This leaves your structure unleveled and unsafe.