Estimates only take half an hour!
Contact Us Today to set up an appointment.
Retaining Wall Construction 2021 | Best Retaining Wall Contractor in Dallas-Fort Worth, TX!
Retaining walls enhance landscape designs and will prevent soil erosion in anyone's sloping lawns. If you want to customize your lawn or reinforce your yard, we're the number one Retaining Wall contractors in the Dallas-Fort Worth, TX area that you can trust. DFW Foundation Repair has expertly installed and repaired retaining walls for over 20 years.
We have the knowledge and experience you can count on to create functional, elegant, and durable retaining walls. We engineer attractive designs and use premium materials to construct lasting walls that make your property stand out as a design masterpiece. Give your property the makeover and protection you'll enjoy for years to come by calling our retaining wall builder for a free consultation.
Whatever type of wall you have in mind, we can install any style. From the segmental walls to railroad ties and even paved stone, our team of licensed and insured professionals is the best choice for getting the results you want.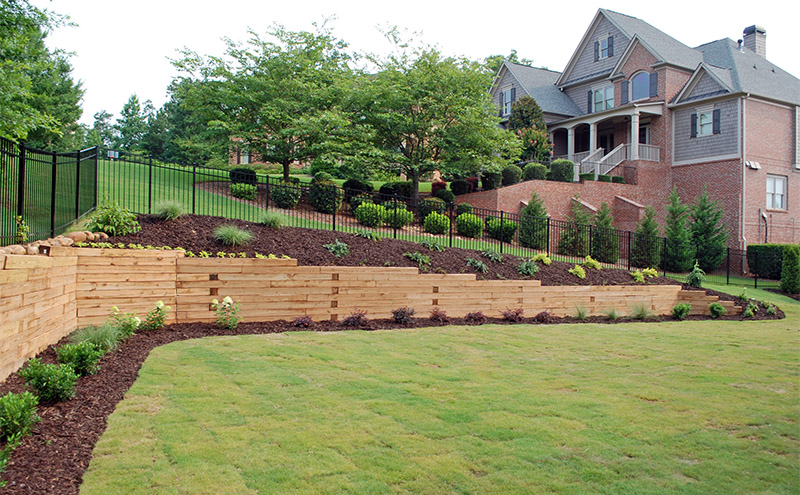 Rely on Us to Install and Repair Retaining Walls
There are many hardscaping companies to choose from and selecting the right team for this type of job can be a difficult task. However, we have the integrity and attention to detail you can count on for excellent results.
Our trustworthy company has built a reputation for delivering exceptional retaining walls. We know how to apply all of the appropriate techniques and materials to construct the wall best suited for your needs. Don't take chances by trusting your construction with a less experienced company. We're committed to achieving your total satisfaction with stunning walls completed on-schedule.
We take tremendous pride in our work, and we guarantee that we bring the same commitment to all of our jobs, no matter how big or small. Call us and experience the difference that our work makes. We promise Your retaining wall will look great and last for years to come!

Your Experienced Retaining Wall Builder
Designing and constructing retaining walls is no task for beginners. Working with concrete and stone and calculating the loads that these walls must bear require skill and experience. Determining lateral earth pressure and checking for wall base sliding, our team understands the complexity of wall installation. Many issues like improper backfill drainage can compromise the success of retaining walls. When you want walls that are tough and built for long-term durability you can depend on us.
We have the knowledge and experience that sets us apart from the rest. Our walls are functional and complement your property's design and add a new element of elegance. For superior protection and unmatched visual presentation, we're your single source for retaining walls.
Estimates only take half an hour! Contact Us Today to set up an appointment.