Under Slab Leaks
At DFW Foundation Repair we pride ourselves as leaders in Leak Detection and slab leak repair to perform all major plumbing repairs for commercial clients and residential properties. All plumbing activities are supervised by a Master Plumber and include trenching between the house and city water line connection, tunneling under the concrete slab, repairing or replacing all sewer lines, under slab plumbing services, and more.
Water, sewer, and drainage leaks underneath a foundation can be a homeowner's worst nightmare. These and other warning signs of foundation problems may require extensive under slab plumbing services.
When you see signs of plumbing problems it can be unnerving. Let our experts in slab leak repair and plumbing repair help you find the right solution for your home or business. Our experienced foundation inspectors and estimators will recommend quick and easy tips or, if repairs are needed, they provide a quote tailored to your needs.
We offer the following:
Testing of Incoming and Outgoing water lines

Trenching

Tunneling

Repair or Replacement of water lines whether Incoming or Outgoing

Professional Under Slab Plumbing Services

Master Plumber and over by DFW Foundation's experienced teams
Testing Your Water Lines
Plumbers usually don't always test INCOMING water lines for leaks because these lines will have pressure and any leak becomes obvious to you in a short amount of time. Once a leak is found on an incoming water line it can usually be quickly repaired. Calculation of the slab leaks repair costs is the first step before making any decision on the repair procedures. The easiest and least costly repairs on incoming water lines tend to be located between the city meter and the outside of the house or commercial structure. When this happens, the repairs usually require trenching or digging a trench to expose the water lines for repair or replacement. If the incoming water line is made of galvanized metal and is over 50 years of age, the property owner should consider replacing it with a PVC water line, which has a longer lifespan and will not corrode.
The OUTGOING (sewer and drain) water lines are NOT under pressure. They drain with gravity as the force to move any wastewater. Therefore, when outgoing water lines are replaced, Master Plumber must ensure that the new water lines have the appropriate downward slope to the city's main sewer line. It is no doubt, repairing and replacing drain and sewer lines under a home's concrete slab foundation is one of the most difficult and labor-intensive plumbing jobs. It is difficult because a tunnel must be dug under the house for men to crawl underneath and through to replace damaged drain lines. The only other option is to jackhammer a trench through the slab from above. This will be the last resort. We do not utilize this method because we feel it can jeopardize the integrity of the home's slab foundation. It can also escalate the slab leaks repair costs beyond the project scope and budget.
Estimates only take half an hour!
Contact Us Today to set up an appointment.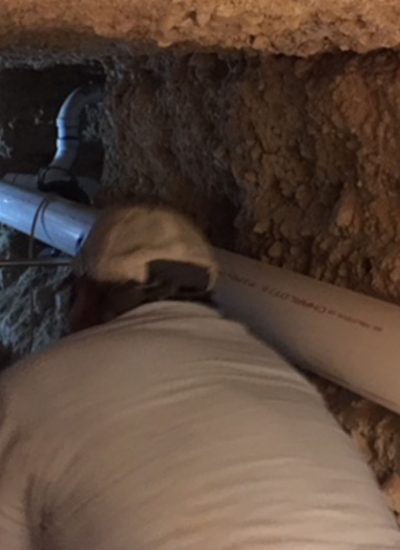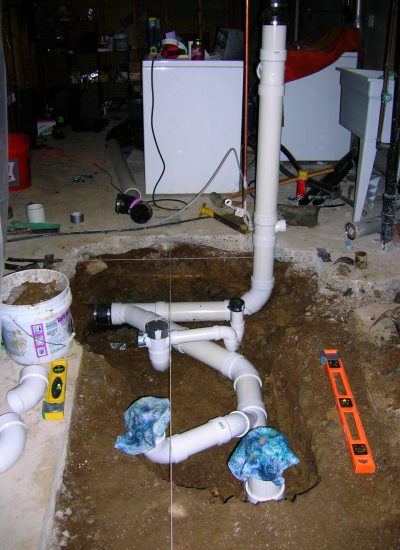 Trenching
Trenching is the process of digging a trench in the ground to access buried water lines. It can be dug by a machine or by manual labor. Usually, shorter distances are dug by hand and longer distances are dug with a trenching machine.
Tunneling
Tunneling is the process of digging a tunnel under a home foundation. A tunnel usually measures 4 feet by 4 feet in order to provide access for the workers. Tunnels must be dug by hand and are very labor-intensive. A key aspect of tunneling is the replacement of the soil after the completed repairs or replacement of the drain lines.  This is called Backfill and it is important. Backfill is very labor-intensive and must use a different soil that is more easily packed and will support the foundation slab above.  An improper backfill, either poor workmanship or the wrong soil, can be problematic in the future.  You can read more about trenching and tunneling by clicking the preceding link.
Drain and Sewer Line Replacement
Trenches and/or Tunnels must be dug to expose the area of drain line or sewer pipe that must be repaired or replaced. Generally, when the drain lines are concrete or cast iron and over 40 or 50 years of age they have reached the end of their useful lives. If there is a plumbing issue, then at this point in time, usually the best course of action is to replace the old water lines with the newer and longer-lived PVC pipes. Most slab leak repair experts believe PVC pipes will last at least 100 years and maybe 200 or more years. Many people don't know how long they will last because they have only been in widespread use since the 1970s. So, they might end up giving you the wrong quote for the repair work. So, it is important to calculate how much does it cost to fix a leaking pipe so that the restored structure can last longer without any recurring problems. At DFW foundation Repair, we provide you with the best and the most practical quote.
Under Slab Plumbing Services
Repairing under slab plumbing leaks is a major effort. To repair such leaks, plumbers must tunnel under the home's foundation manually finding the damage. A major problem is the lack of plumbing companies with any experience dealing with foundations and improper tunneling and backfilling techniques. If an under slab tunnel will not be backfilled properly it can lead to additional foundation problems in the future.
Best Slab Leaks Repair Costs
At DFW Foundation Repair we understand how difficult these under slab problems can be and how to perform the work. In addition to our professional home foundation repair services, we also offer DFW's best under slab excavation and other services (tunneling) in which the industry has to offer. Our customers receive only the safest excavations, highest quality repairs, and spotless cleanups – and all at a reasonable price on your under slab plumbing repairs. That means we don't offer slab leaks repair costs that might keep you happy for today but result in recurring repair costs. Our quality repair works last for decades into the future with moderate maintenance procedures.
No matter where you are in North Texas, you will find our superior solutions to all your home foundation problems. When you have a leak underneath your home's concrete slab, or any other home foundation problem, contact us today, share your information, and know we are the solution with decades of experience in slab leak repair.
Slab Leak Repair Costs
The slab leak repair costs you pay today are the investments to ensure long-lasting safety, structural stability, and quality of living conditions within your home. At DFW Foundation Repair, we have the quality policy of delivering the best services at the most competitive slab leak repair costs you can ever come across in the Dallas Fort Worth region.
Estimates only take half an hour!
Contact Us Today to set up an appointment.